/
/
/
/
All Power Rack Attachments
All Power Rack Attachments
Complete your B.o.S. rack with our series of functional attachments.
     SHIPS FROM CALGARY & TORONTO
     TRUSTED SINCE 2010
     EXCELLENT WARRANTY
   SHIPS FROM CALGARY & TORONTO
   TRUSTED SINCE 2010
   EXCELLENT WARRANTY
Accessories for your Power Rack
Warranty: Lifetime on structural welds and frame*
Customer Reviews
Write a Review
Ask a Question
Filter Reviews:
equipment
hole
pins
issues
ease
purchase
floor
Instructions
little
size
01/14/2022
Cody I.

United States
Great Buy!
I am very pleased with this purchase, I searched for awhile and ended up going with the light commercial rack home gym build with a lat pulldown extension. Everything came in surprisingly fast and came together with ease. Between the instructions and youtube assembly videos, assembly was a breeze. The one and only issue I came across (which isn't a huge concern), is when I went to put the FID bench together, the back cushion had a small hole in it. It doesn't hinder the performance of the equipment at all, just a small cosmetic issue (see attached picture). Other than that everything came in perfect. I would definitely recommend buying from this company.
01/17/2022
Bells of Steel
Hi Cody, Thanks for the review on the power rack attachment and FID bench! Please reach out to our support@bellsofsteel.us for any defects. Our support hours are Monday – Friday 9-5 Eastern standard time. Please don't hesitant to reach out, we want to make sure you are fully satisfied! We are happy you are pleased with your purchases overall. Happy lifting! Thanks again for the review! Irene and the B.o.S. Crew
Sloppy finishing
I really like the dip attachments and the flexibility with adjusting the grip width. I only have two complaints and they are in regards to the craftsmanship. First, I could hear some debris in the tubes and a lot of it fell out of the small openings in the joints without welds onto my floor as I unpacked the product. The debris looked like little metal balls, the size of grains of sand, so I'm assuming it was from the welding. I was able to shake out the rest and throw it away. My second complaint is in regards to the positioning of the holes for the screws that hold the attachment to the power rack. One hole is pretty much vertical, which I presume is how it's supposed to be, but the other whole is off center so the screw goes in at an angle. The screws still do their job and keep the attachment from sliding around, so I'm not concerned for my safety. I thought it was worth mentioning so these issues are addressed for future production.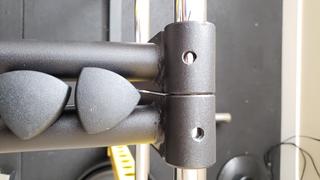 09/03/2019
Bells of Steel
Thanks for taking the time to review and provide feedback. I apologize about the sandblast balls, these are used for cleaning the steel before painting and occasionally get stuck in the product. I will certainly have the screw problem addressed with our factory. Thanks again!
All I Have Tried Have Been Good
I've tried several of the rack attachments so far, and all of them were pretty good. 1. Lat Pulldown For Light Commercial 5.1 - Excellent design idea. The leg brace secures to the uprights with pins and has a nice pad that holds you down. The pulley system system seems to be a little on the cheaper side, but it worked just fine with about 70lbs on it when I was testing. I will say, don't make the mistake of loading one side heavier than the other. I did this accidentally and it bound up on me. This was just user error. 2. Lever Arms - Great idea, can be used to do belt squats if you attach a chain. Not something I'd buy if it were more expensive but since it's cheap I dig it. 3. Monolift Attachment - Of the 3 I've seen (Rogue, Titan, BOS) this one is by far the lightest and cheapest feeling. That said, they're still pretty good, and I wouldn't hand any qualms about using them. The counterweight is a little too light, but a couple magnets solves that. 4. Spotter arms - Decent. Not super heavy and strong, not super light and weak either. Overall just good.
Power Rack Attachments
Graham at B.o.S. was awesome in helping find the exact power rack attachments I was looking for to add to my B.oS. Power Rack 5.0 - I highly recommend B.o.S. equipment to anyone looking for high quality gym items at an affordable price. I highly recommend and will buy from B.o.S. in the future
Power rack 4.5
If you are reading this then you were probably like me scouring the interweb to death about the various racks to complete your home gym. You have probably looked at the cheap ones and said "nope" and most likely have looked at the Rogue racks and thought "holy s**t, that's a lot of money for some steel". Enter the BOS power rack. First off I was very impressed with the customer service. It is pretty rare these days to find knowledgeable, helpful people. Ryan answered all of my questions very quickly which made the descision to buy the rack that much easier. About the rack then. I have found it to be the best, most feature packed rack for the money. It was easy to assemble (ditch the tools that come with it and use your own) and the roller J cups are something you will wonder how you ever did without. They make things that much easier. I really hummed and hawed about the safety straps and I am glad I went with a rack that has them over the regular pins. Failing a lift means the bar falls on something with a bit of give and you can set the one side of the strap on the high side to be able to scoot from underneath while bench pressing. If you do not require the straps for a lift, just disconnect one side instead of having to remove the entire bar. Once you have a rack with straps, it will be hard to go back. The resistance band pegs are nice, but I use them for plate pegs and the fact that I can hang my bars between 2 of them on the upper portion of the rack. There has to be some drawbacks to every product so here are my (minor) dislikes. The rack is painted instead of powder coated. I realize that powder coating a rack adds cost, so if it meant saving $$ I would go with paint. The hitch pins that go on the end of the safety strap pins are a pain. I threw them out immediately and made some new ones out of cotter pins. Way better now. Some may not like the fact that you have to pull the safety strap pin to adjust the bracket up and down. I thought it would bother me before I bought the rack, but it literally takes under 45 seconds to adjust all 4. I am very happy I went with the BoS rack
01/31/2018
Bells of Steel
Wow what an awesome review, thank you so much for the kind words and I'm glad you love the rack!