Light Commercial Rack
$659.99
Customer Reviews
Filter Reviews:
anyone
quality
rack
price
cost
money
grips
steel
Rogue
01/08/2020
Ryan J.
Canada
Great Purchase
I purchased the light commercial rack with the lat attachment. Everything arrived in great condition and within the time frame mentioned. Pros Super sturdy. The rack is a beast with no flaking or any nicks in the metal. I love the safety straps. It was one of the main reasons I bought the rack. The chinup bar is great super sturdy and the rack does not shake at all when using it. The roller J-cups are a great addition as well. This rack comes with everything you could need. The lat attachment is great, the pulley works super smoothly. The attachments for it are great and easy to use. It is very easy to switch between the attachments. Cons The pickup for the shipping is very confusing. It would be better if this was laid out better. I wasted a good half an hour trying to figure out where to go when picking up my rack. The installation video for the lat tower could use some work. It is very finicky and could be laid out a little easier. The lat tower adds about an inch or so to the top of the rack. This is not mentioned in the description. For most people this is not a big deal but I was dealing with very minimal clearance above my rack so it barely fit and made the installation very difficult. The Welcome code did not work when I tried. While this wasn't a huge deal it did suck missing out on a free shirt. Overall this is a fantastic purchase and would recommend this to anyone looking to upgrade their home gym.
01/09/2020
Bells of Steel
Hello Ryan, Thanks for the awesome review. We take pride in the quality and durability of our racks. Again, thanks for the amazing review. Hope to see you again soon.
01/08/2020
Andrew V.
US
Exactly what I wanted
Ordered from the site using the Garage gym builder. Put together a package that, with research, would have cost significantly more on other brand sites. I've been using the equipment for a couple of weeks now and I have zero regrets going with bells of steel for my garage gym. The equipment is sturdy and performs as it should. I was a bit worried about the steel gauge of the rack, and thought it would look and feel flimsy; those fears were put to rest once it was fully assembled. I look forward to adding to my gym as I become more experienced, and will definitely go back to bells of steel for the equipment I want/need.
01/09/2020
Bells of Steel
Hello Andrew, Thanks for the 5-star review. We are happy to know that our Light Commercial rack exceeded your expectations. Again, thanks for the awesome review. Let the gainz begin!
12/22/2019
Colin
Canada
Excellent purchase
I had a great experience with BOS. Pick up was easy at the local shipping depot. Great customer service with a return of the vertical mount barbell holder. You need a good 9 feet of ceiling height in order to store a 7 foot barbell in those holders even while using the lowest mounting point on the rack. I have used this rack a few times a week for the last 6 months and it has been great. Really solid rack even without the weights on the plate pegs but as solid a feel as the hammer strength commercial rack I use at work when the weight plates are on it. The roller j-cups are not padded so I cut some 4mm rubber matting and glued it to the faces. Works great to prevent the bar from scuffing with metal on metal. I love using the spotter straps as they are easy to position and keep the noise down in the house when I am working out early and the rest of the family is sleeping. I also use the multi-grip chin up bar for not only chin ups but also as a solid attachment for my TRX which I find great for warming up prior to lifting. I use 2 of the band pegs not only for max and dynamic days but also for storing my smaller plates. They are strong enough for heavier plates if someone wants to use them for that but I bought 2 sets of plate pegs for that purpose. Overall, highly recommended.
12/23/2019
Bells of Steel
Hey Colin, ​ ​Thank you for the wonderful review. We are glad that you are satisfied with the rack. Again, thanks for the great review. Happy holidays!
11/28/2019
Derek W.
US
Solid Construction Solid Value
These products have solid overall construction. Good thick steel, welds, and powder coating. The rack with the cable cross attachment is rock solid (400lb+ squats without being bolted down), and has VERY limited shake or sway. There were some cosmetic dings, but the BoS team made it right quickly. I am a daily user and I am very happy so far!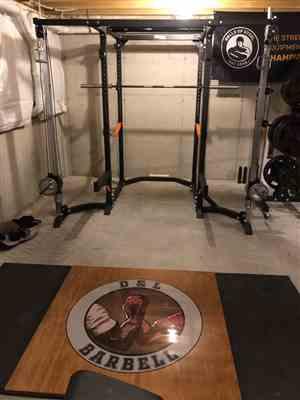 11/28/2019
Bells of Steel
Hey Derek, ​ ​Thanks for the 5-star review. We take pride in the quality of our racks. Again, thanks for the awesome review. Let the gainz begin!
11/18/2019
Edmundo G.
CA
Great product
Very well built and easy to put together. It is a great purchase. I am glad I went with this and not the other models in the end.
11/19/2019
Bells of Steel
Hey Edmundo, ​ ​Thank you for the great review, this really made our day. We are glad that you are happy with the order. Again, thanks for the awesome review. Hope to see you again soon!
Additional information
| | |
| --- | --- |
| Weight | N/A |
| Dimensions | N/A |
| Height | 84.5" – Full Size, 72" – Short Size |