4 Post Push Sled By B.o.S.
$299.99
A heavy duty push sled with 4 removable push poles that fits into your back seat or trunk easily.
Only 2 left in stock
Customer Reviews
Love them!
Great quality and a great price and perfect size for a smaller group training studio where I can use 5 at one time!
02/12/2019
Bells of Steel
Solid Sled!
Feels like pushing a tank. The removable bars are a good feature to fit in back vehicle and store at home. I have a drag sled already but the push sled adds another angle to training and I'm really happy that I added. This is perfect for LitviSleds, partner training, and more.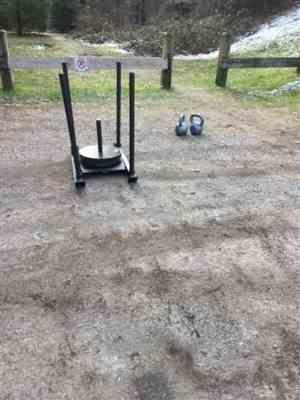 03/04/2018
Bells of Steel
G
01/10/2018
genny
great product, awesome price
We ordered this for our gym and it's awesome! Members love it/hate it, haha ;) I recommend! It's well built, well priced & does the job. And Kaevon is fantastic to work with!
02/13/2019
Bells of Steel
Thanks Genny! These sleds were built and designed to last being used consistently day in and day out! Enjoy!
It's a tank
This dog sled creates an excellent beginning or end to any work out. Excellent, as in extremely difficult and makes you exhausted in minutes. Pushing, pulling, light or heavy it all makes me regret getting it out of the garage. Great product.
02/13/2019
Bells of Steel
Thank you Cliff! We are happy to hear the sled is working great for you!
The push sled is very compact, all posts can be removed and it fits into your back seat or trunk easily. Sled work is essential in any athlete's training regime. Push sleds take it one step further…
Lifetime warranty* on structural welds and frames
Rapidly enhance your anaerobic work capacity

Shorten your recovery time

Is great rep work for the glutes, quads, hamstrings and calves
Amazing for GPP

Can handle any weight you can fit on it…

It can be used on all surfaces including grass, rubber flooring and concrete

It comes with 4 detachable posts
Additional information
| | |
| --- | --- |
| Weight | 95 lbs |
| Dimensions | 36 × 24 × 10 in |